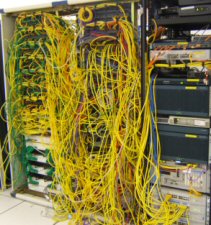 IT Guru Solutions can provide a wide range of networking options.
CAT 5e/6 Networks
The majority of companies require the reliability of transferring files to and from PC's and or servers. CAT 5e/6 networks is the industry standard which will give up to 1 Gigabit link between PC's with the right switch in place.
Wireless Networks
Wireless networks are very good for enabling network access in a difficult areas that need cabling, or the added bonus of mobility. There are security issues with setting up a wireless LAN which are easily overcome with the right knowledge.
On completion of any work, you will be provided with a diagram outlining the layout of your networks. If you should choose to move to another IT company, IT Guru Solutions will be happy to provide all details of your existing configuration.